To donate now is so simple, just click on the link below to visit our Just Giving Page.
If you are a UK tax payer please Gift Aid your donation as this allows us to recover an additional 28% with your donation at no cost to you.
Thank you for your support.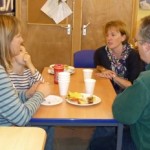 If you want to make a donation by cheque please send it to Peter Hughes, 1 Rugby Drive, Brooklands, Sale, Cheshire
M33 3TG . Please make your cheque payable to THE CHARGE FAMILY SUPPORT GROUP.